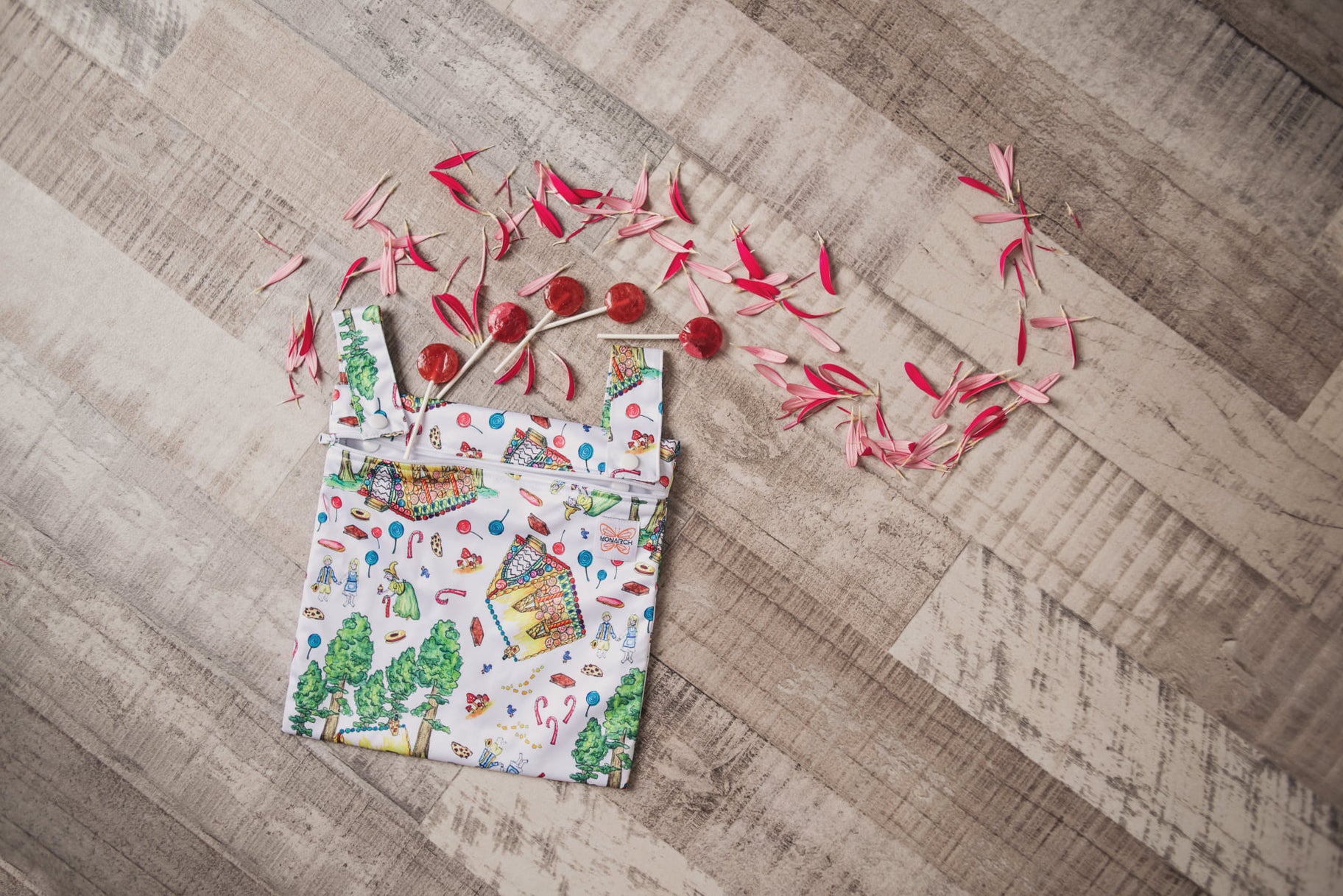 25 Ways To Use A Wet Bag Beyond Cloth Nappies
Wet Bags are one of the most genius inventions when it comes to using cloth nappies out of the house.  With waterproof PUL, easy zip closure and snap on handles, these brilliant bags are the perfect portable companion for containing your dirty MCN's.  But their uses extend far beyond nappy storage! Wondering what to use your Wet Bags for? They're perfect for swimming, camping, travelling with toiletries and/or laundry, keeping your tech sand-free at the beach... the list goes on & on.
Ever made a vow to yourself to never give the kids anything wet/sticky/gooey to eat in the car, only to find yourself back there in a sheer moment of desperation?  Sing it with me - WET BAGS!!
Today we've compiled a list of just 25 uses for your Wet Bags that extend beyond dirty nappies - We would love to hear how your Wet Bags get used around the home or out and about! 
1. Swimming - Whether at the pool or the beach, your drenched swimsuits and towels won't soak the seats of your car when the fun is over! A Mini Wet Bag will keep your valuables safe and dry at the beach, or at the swimming pool too!
2. Wipes Bag - Store a couple of wet cloth wipes in a mini for sticky hands and faces while out and about. The mini has room to fit snacks, a bib and some wipes, even a few small toys, making café trips and quick clean ups a breeze!
3. Teething Toys/Dummies-  A Mini will keep dummies and teething toys clean and easily accessible.
4. Toilet Training - Keep a spare set of pants, underwear and a few wet wipes on hand for quick and easy outfit changes while your little one is learning to use the toilet independently!
5. Laundry - Keep your dirty or wet clothes separate from your clean ones while travelling!  Plus the bright colours of our wet bags will ensure none of your clothes get left behind in a hotel room!
6. Emergency Bin - Keep a wet bag in the car for apple cores, yogurt pouches, coffee cups and any other rubbish you don't want rolling around in your back seat. The dual-layer PUL fabric will keep any spills and smells perfectly contained for you!
7. Breast Pump - Your pump parts will stay nice and clean when zipped away in our Regular Wet Bag!
8. Breast pads - Pop your breast pads in a mini when out and about for easy changing and avoid those inevitable wet patches.
9. Medical Kit - Keep those essential First-Aid supplies at close reach whilst you're out at the park or beach. Our Mini's are just the right size for First-Aid essentials.
10. Craft Projects - Store your sewing and knitting supplies, craft paper and crayons, paints and brushes in a mini, reg or pod!
11. Lunch Bag - The perfect reusable snack and lunch bags for the whole family!  
12. Stroller Caddy - Throw your phone, keys, purse and sunnies into a Mini, snap it on the handle of your stroller and you have everything you need for a quick trip to the store.
13. Make up/Contact Lenses - Our Mini's will hold your contacts case and cleaner PLUS your eye drops neatly in your glovebox for whenever they're needed so you're never caught out again!
14. Travel Toiletries -  Our Nappy Pod makes the ideal toiletries bag! They're even big enough to fit everything you need for the whole family. 
15. Camping/Hiking - The perfect wet and dry bag for every adventure! Lightweight and compact, they're perfect for storing wet and dirty laundry, keeping important documents dry, to use as food bags, a place to store your dirty dishes until you can wash them, the list goes on!
16. Hospital Bag - Packing for a new baby?  Our Mini's are just the right size for holding your little one's first outfits, sending dirty laundry home and housing your toiletries and all the other post partum essentials. 
17. Bibs/Smocks Storage - Keep a regular wet bag attached to the back of your high chair for easy access to bibs, smocks and wipes at meal times!
18. Cloth Pads Storage -  Tuck your mama Cloth Menstrual Pads or menstrual cup in our Mini and pop them safely, straight into your handbag. 
19. Beach Toys - Keep your beach toys contained in a Regular Wet Bag to prevent sand and seawater from spilling out into your stroller, bag or car. You can also keep your sunscreen and hats in the front pocket to keep them free of sand! Just remember to rinse your Wet Bag out with fresh water when you get home (or pop it through the washing machine).
20. Change Mat Bag - Fold your change mat to fit perfectly inside a Mini Wet Bag for compact storage.
21. Book Bags - Perfect for the library, school or even your work bag!
22. - Green Bag - Ditch single use produce bags and keep your fruit and vegetables from rolling all over the boot of the car!
23. Cloth Wipes storage - Our Mini Wet Bags are just the right size to hang from the change table or in the bathroom for quick, easy access to face washers for yourself and the kids.
24. Busy Bag - Perfect to store a few toys, books and colouring equipment for long car rides or plane trips.
25. Gym - Store your gym clothes in a wet bag to keep smells and leaks contained. They're great for dirty shoes too!
...And a bonus one!  - Store your compact umbrella in a Mini Wet Bag once you're out of the rain and keep the drips contained.
Fantastic for the environment and so much prettier than single use plastic bags, Wet Bags also make a practical eco friendly gift for anyone!
If you loved this post, you will love Alcmena's  "10 Creative Ways To Use Your Wipeable Mat" blog post!