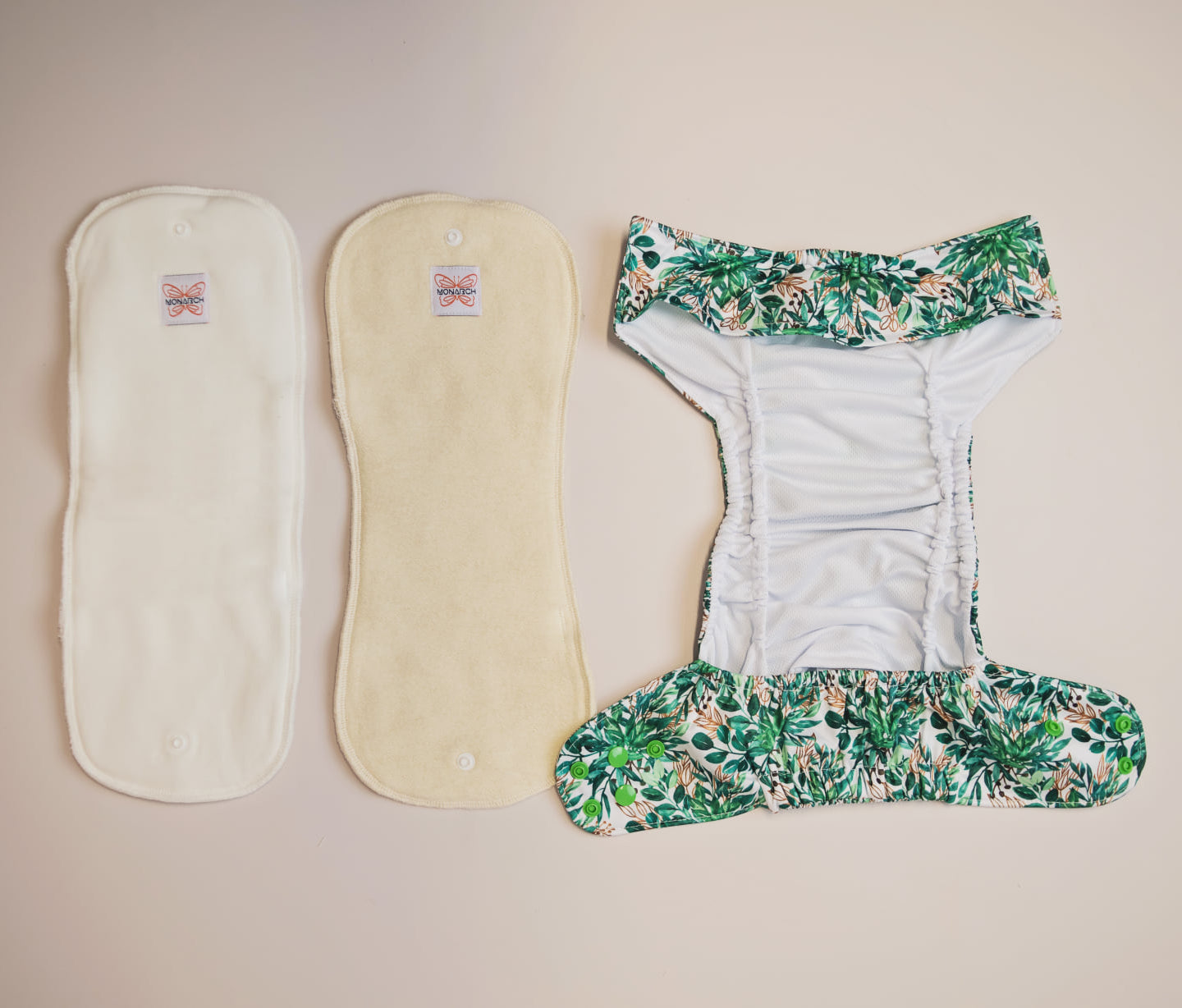 Absorbency Test
To assist you in choosing the perfect nappy for your family's needs, we have tested the absorbency of our Classic, Ultimate and Pull-Up range of bamboo and hemp inserts. 
All inserts used in this test have been washed a minimum of 10 times (new inserts take 8-10 washes to reach maximum absorbency). 
If your baby or toddler is a super heavy wetter, we suggest boosting your nappy or changing the nappy more frequently until this max level is reached.
ABSORBENCY TEST
Aim:  To measure relative absorbency of current Monarch inserts.
Inserts Tested:
Classic - 5-layer bamboo insert 
Classic - 5-layer hemp insert 
Ultimate

 - 

3-layer bamboo nap insert 
Ultimate - 5-layer bamboo insert
Ultimate - 5-layer hemp insert
Pull-Up

 - LOSFM 

Shell with absorbent core 
Pull-Up

 - 

3-layer bamboo booster
Pull-Up

 - 

4-layer hemp trifold
Method:
Weigh each dry insert individually, before immersing them in a sink of warm water for two minutes.
Hang each insert out and waited until the inserts were no longer dripping wet and weighed them individually.
Repeat this process twice times to allow for variation. We have included the median measurements.
Results:
Summary
Classic Nappy (10 layers):

 

415g
Pull-Up Nappy (14 layers, assuming hemp folded in half):

 

724g 
Ultimate Nappy (16 layers):

 

865g
Classic Inserts 
DRY
WET
Absorbs
Total
5-layer Bamboo

97g

317g

220g

415g

5-layer Hemp

78g

273g

195g
Pull-Up Inserts
DRY
WET
Absorbs
Total
LOSFM Shell

123g

363g

240g

742g*

3-layer Bamboo

42g

164g

122g
4-layer Hemp

147g

527g

380g
 *The 4-layer Hemp Trifold can be folded in thirds (recommended for smaller sizing) or halves (recommended for larger sizing)
Ultimate Inserts
DRY
WET
Absorbs
Total
3-layer Bamboo

50g

232g

182g

865g*

5-layer Bamboo

76g

340g

264g
5-layer Hemp

93g

330g

237g
*Note that the Ultimate Nappy comes with 2x Bamboo Nap inserts.
 Comparison With Disposables
As a comparison for relative absorbency of Cloth vs Disposable nappies, we also tested 3x Size 4 (10-15kg) Huggies Ultimate Disposable Nappies.
Disposable
DRY
WET
Absorbs
Huggies Sz4 Nappy

49g

445g

396g

A Few Final Observations:
All Monarch inserts are completely interchangeable and many families customise their insert set up based on their little ones changing output. The only rule is there are no rules! 
Bamboo vs Hemp
| | |
| --- | --- |
| Bamboo | Hemp |
| Absorbs quickly - fantastic for flooders* | Capacity to absorb 20% of its weight before feeling damp |
| | Tighter fibre, trimmer insert |
| | |

* A 'flooder' is the name associated with a child who holds his/her urine for a period of time and releases it in one go, thus flooding the inserts before they are able to absorb all of the urine.  This leads to leaks and is more common in boys and older toddlers who have more bladder control.
If you have any questions or comments about this, please don't hesitate to reach out to us at support@monarchstore.com.au!
Photo and Testing credit to: Nicky O'Brien and Lois Ismael