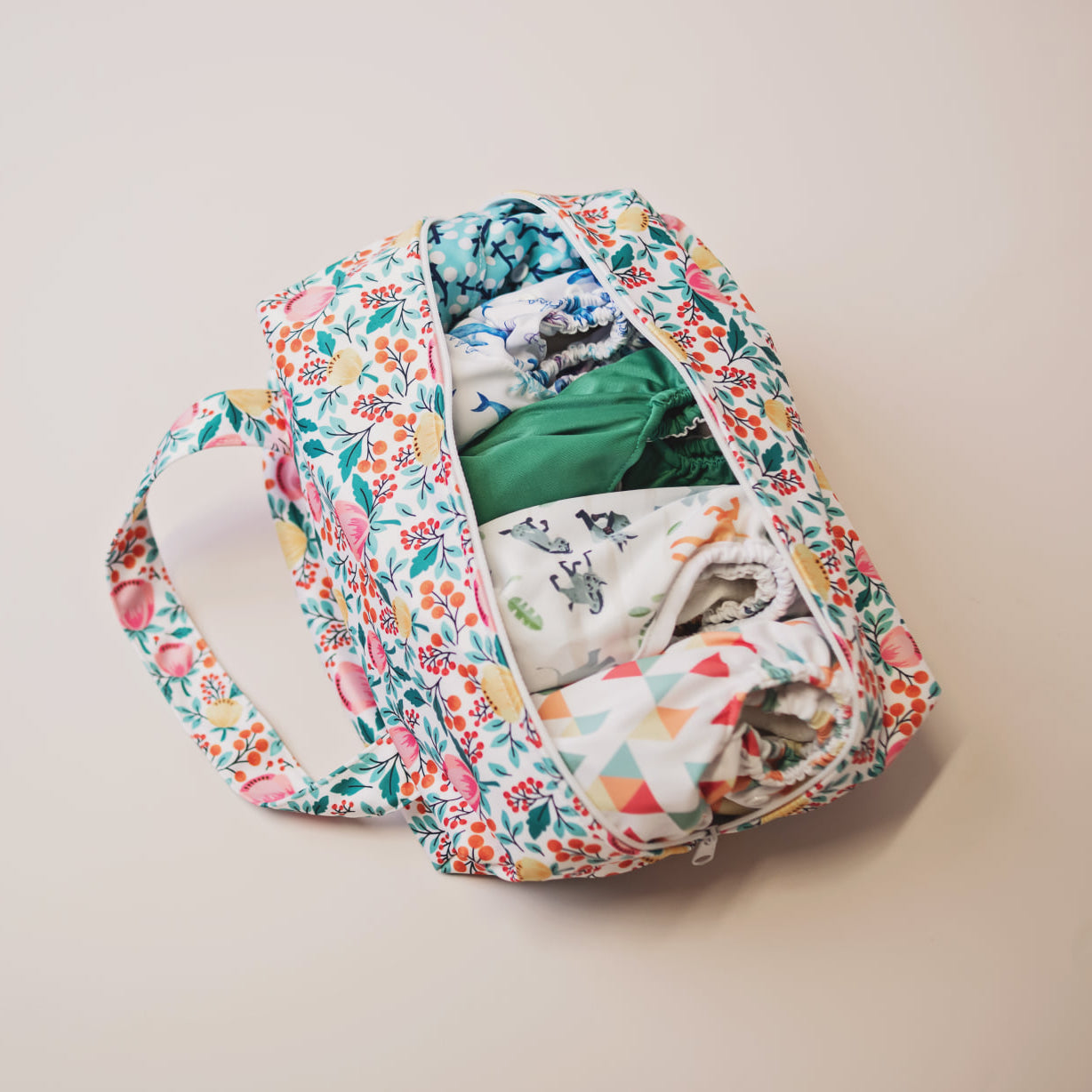 Essential Cloth Nappy Terminology
When you're new to the world of Cloth Nappies, the terminology and jargon can feel like another language. This list (the words in blue are specific to Monarch and Alcmena whilst the words in purple describe items used in the Cloth Community but not directly offered by Monarch or Alcmena) will hopefully help make it a little easier for you to understand the terminology used when navigating websites and online communities.  
A
AI2 or All-in-two: 

 

The outer shell and inserts are separate.  They can either be stuffed or snapped in depending on the type of nappy (Pocket/Snap & Wipe).
AIO or All-in-one:  The outer cover has the absorbent inserts sewn in. This style of Cloth Nappy is most similar to a disposable nappy.  
Alcmenie: A valued member of the Alcmena community.
Ammonia build-up:

 

Occurs when Cloth Nappies aren't being washed properly or are left too long between washes. Ammonia burn can cause nappy rash and degradation of your nappies, so its important to deal with ammonia build up as soon as you notice that pungent smell (similar to a public toilet or hair dye). Sanitisation will oxidise the ammonia. Refer to Clean Cloth Nappies guide to sanitising your nappies.
B
Bamboo insert:

 

A Cloth Nappy insert made using layers of fast absorbing Bamboo fabric.  
Booster:

 

An additional insert added to your set up to increase absorption capacity. 
C
CCN:

 

Clean Cloth Nappies -  A helpful resource for new and seasoned Cloth users.   
Cloth Stash:

 

Your collection of Cloth Nappies and accessories.  
Cotton:

 

 It's an absorbent, lightweight and breathable natural fibre. Very soft and strong so often paired with hemp to make it moldable to the bum. It can take a lot of water to manufacture (more than bamboo and hemp) and not as absorbent on it's own which is why we don't use it on its own in our inserts.
Cover: See Shell (Cover).
Classic: The Classic nappy is Monarch's pocket nappy.
D
Delamination:  When the waterproof PUL layer comes away from the outer fabric.  A delaminated nappy will still work, albeit less efficiently until the PUL gets a hole in it.  Once this occurs, delaminated nappies make perfect reusable swim nappies!
Dry Pail:

 

Nappy storage for dirty nappies and pre washed nappies. These tubs must be aerated to avoid smells/mould. No soaking required! 
F
Fitted Nappies: Shaped like a disposable, fitted nappies are a fully absorbent cloth nappy that require a waterproof cover to contain wetness.
Flats: Square sheets of single layer fabric (commonly cotton or bamboo) used by our parents and grandparents. Also called terry squares, these nappies are folded to fit, secured with a pin or Snappi.  Flats require a cover to make them leakproof.  
Flooder:

 

A child who holds their urine for a period of time and then releases it in one big wee that 'floods' the nappy, causing leaks due to the insert not being able to absorb the urine fast enough. Bamboo is extremely quick at absorbing liquid. So if your bub is a flooder, our bamboo inserts will be your best friend!
G
Gussets:

 

The elasticated seams around the leg openings of your MCN's. A double gusset is a nappy with an additional row of elasticated fabric at the leg, providing extra protection against blowouts.
H
Heavy Wetter: A child who outputs more than average.
Hemp Insert:  A Cloth Nappy insert made using layers of thirsty hemp (usually with organic cotton in the composition to allow it to be soft enough to use on the bum).
I
Inserts: Layers of absorbent fabric sewn into a rectangular or hourglass shape are the absorbent part of a MCN.  Inserts are made from cotton, bamboo, microfibre, hemp or a blend of a few. Inserts can be stacked to match your child's output.
L
Liners: Used to keep babies bottom dry and inserts cleaner.
M
MCN:

 

Modern Cloth Nappies - A reusable nappy (Cloth Nappy) created to fit more like a disposable nappy. Fastened with Snaps, Hook and loop or Snappi, MCNs are made with elastic around the waist and legs for a more trim, comfortable fit.
Main Wash:

 

The cycle you run your nappies through to get them thoroughly clean after they have been through a Pre-Wash.
Microfibre:

 

A fast absorbing, quick drying fabric used in nappy inserts. Not to be used directly against babies skin as it will cause irritation. 
N
Night Nappy:

 

A nappy designed to withstand the output of a child overnight. Extra features such as a heavy duty cover and super absorbent inserts are used when designing a Night Nappy.
O
OSFM:

 

One Size Fits Most - this nappy fits an average sized child from birth/early on right up to toilet training. 
OTB:

 

On The Bum. A term commonly used in the Cloth Community to describe a nappy being worn. Example: "That print looks even better OTB"  "I can't wait to get this new nappy OTB". 
P
Pocket Nappy:

 

A style of Modern Cloth Nappy that is made up of a outer waterproof shell lined with an internal fabric layer forming a pocket for inserts to be placed inside. 
Poonami/Poosplosion:

 

When.it.just.goes.EVERYWHERE. Most common in newborn and allergy babies. The reason envelope necks were invented on baby singlets/tops. Also referred to as blowouts.
Ploppable Poo:

 

A poo which falls easily into the toilet, no need for rinsing! 
Prefolds: Similar to a cloth square, these flat nappies contain an added absorbency panel.
Prewash:

 

The initial wash cycle to be completed daily to remove build up of urine in your nappies.
PUL: 

Polyurethane laminate - the waterproof material used to make the outer layer of Cloth Nappies, wet bags, bibs, menstrual/breast pads and more!
R
Rise snaps: A

n important feature providing a customized fit by helping to lengthen or shorten the nappy, allowing one nappy to cover a wider weight range. 
S
S&S:

 

Strip and Sanitise - the process of removing detergent build up, smells, stains and oxidising ammonia build up to prevent rashes and degradation of your inserts. Recommended if you purchase second hand nappies or if your inserts have lost absorbency/started smelling.  
Shell (Cover):

 

The outer waterproof layer of your nappy, usually made from PUL or Wool.
Sized Nappy: A style of MCN with several size options.  Particularly useful for tiny newborns. 
Snap & Wipe Nappy:

 

An outer shell which can be wiped and reused 2-3 times if not soiled. Comes with a range of snap-in inserts which can be customised to suit your babies needs.
Snap closure:

 

Snap buttons used to secure the wings to the front of the shell.
Stash Shot:

 

A picture of your treasured Cloth collection. 
Sanitise:

 

The process of using a dilute bleach to kill bacteria, oxidise ammonia, remove stains and smells. We recommend Clean Cloth Nappies guide for science based instructions on sanitising.  
T
Trifolds: An insert designed to fold into three layers to provide extra absorbency layers.
U
Ultimate: The Ultimate nappy is Monarch's versatile 3-in-1 style, offering a swim/day/night nappy in one!
V
V1.5: Alcmena's AI2 Pocket Nappy, a super trim fit, featuring an athletic wicking jersey pocket and double gussets for leak protection.
V3.5: Nicknamed the "Bombproof" Night Nappy, Alcmena's V3.5 is an AI2 Snap and Wipe option. A versatile style for day and nights! 
Hook and Loop closure:

 

Hook and loop tape used to give you a close fit. 
W

Wash Routine:

 

The steps taken to ensure your nappies are clean and hygienic. Factors considered in your wash routine are wash cycle, detergent choice and water temp to name a few. We recommend Clean Cloth Nappies for advice on setting up a wash routine to suit your needs.
Wet Bag:

 

One of the most versatile products in the Cloth world (second only to our Change Mats!) Made from waterproof PUL with Zip closures, wet bags are not just an easy way to store dirty Cloth Nappies when out and about!
Wings:

 

The tabs of a MCN that wrap across the waist of your baby, ensuring a secure fit.