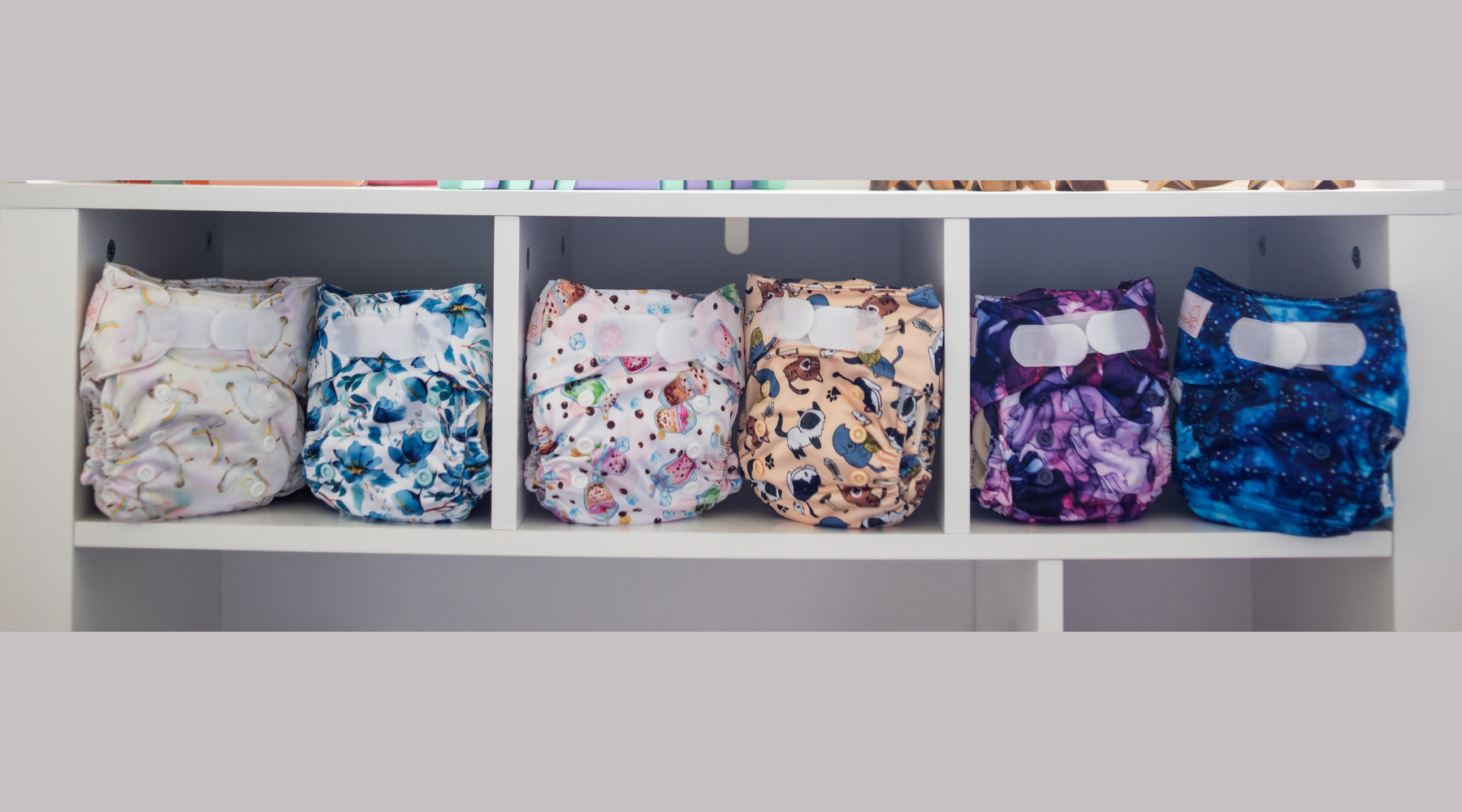 What to Look for in a Cloth Nappy?
Choosing the right nappy can be overwhelming, especially if you're new to the world of cloth nappies. With so many options available, it can be challenging to know where to start. In this blog, we'll explore some of the essential factors to consider when choosing a cloth nappy to help you make an informed decision.
Absorbency - How Much a Cloth Nappy Can Hold
Absorbency is one of the most important factors when considering a cloth nappy because the last thing you want is waking overnight for a nappy change, or needing to bring extra outfit changes.
Look for nappies with inserts made from

natural fibres

(e.g. hemp, bamboo and cotton), rather than polyester (e.g. suede-cloth, microfleece, microfibre etc). You will often find nappy inserts using a combination of these materials as each fibre offers something different. Natural fibres are better at holding the moisture for longer, and are also less irritating on sensitive skin. 

You can use our absorbency chart to find out what's best for your baby!
Durability - Cloth Nappies Should Last for Years:
Investing in a durable cloth nappy is essential if you want to get the most value for your money.
Paying a few extra dollars up front could mean not having to replace all your nappies half-way through toilet training or for the next child.

Look for a company that has a responsive customer service team as this is often a good indicator that they will assist you with any issues that you come across in the lifespan of your nappies. 
Comfort - MCN's Are More Comfortable Than Disposables 
One of the most important factors to consider when choosing a cloth nappy is your baby's comfort.
Look for nappies that have

gentle elastics

,

breathable materials

(usually natural fibres) and

soft fabrics

that will be comfortable for your little one.

If your baby's skin is sensitive to man-made fibres, avoid polyester such as microfleece, suede-cloth, athletic-wicking jersey and microfibre*
*Microfibre should never be placed directly against the baby's skin as it will draw out moisture and cause the bottom to be very dry and irritated. 
How Easy Cloth Nappies Are to Use:
This comes down to your personal preference. Here's our ranking of most to least easy to use nappies:
Type of Nappy
Pros
Cons
Example in a Monarch Nappy
All-In-One (AIO) Nappy
All the inserts are sewn into the nappy, ready to go. No need to figure out which inserts go with which nappy.
They take a bit longer to dry as the layers cannot be separated, and the whole nappy cannot be put in the dryer.
N/A
All-In-Two (AI2) Nappy
Almost as easy to use as the AIO, but the nappy shell (waterproof part) and the inserts (absorbent part) are separate. You can use as many or as few inserts as you need.
Learning which inserts go with which nappy (although in the end, you'll realise it doesn't matter and most inserts and nappy shells are interchangeable).
Ultimate Nappy (~4-20kg)

Newborn Nappy (~2-8kg)
Pocket Nappy
Usually the lining of the nappy shell is a stay-dry material (e.g. Suede-Cloth or Athletic-Wicking Jersey so you can wick moisture away. Option to stuff the inserts inside the pocket to keep them from moving around.
Needing to stuff the inserts into the pocket (although there is always the option of just laying them on top).
Usually these nappies are an average size, so may not accommodate extra inserts or a larger bub (taller / older).
Classic Nappy (~3-17kg)
Prefolds / Flats
Much cheaper than Modern Cloth Nappies, and the prefold/flat usually dries a lot quicker as the layers can be unfolded and laid flat.
Needing to learn the different folds / configurations in order to customise the absorbency to your child.
Will also need to buy a waterproof cover to put on top.
Bamboo Flat (currently sold out)
Other Considerations
Nappy Closure - Snaps
Snaps are often the preferred closure as they are more durable compared to Hook & Loop
Can be harder to adjust sizing as sometimes the baby is in-between two snap sizes
Nappy Closure - Hook and Loop
More similar to a disposable nappy in fit, and quicker to put on.
Can be easier for your little one to undo as they grow up (but nothing a onesie can't solve)

Ultimates (Both)

Beginners (Both)
Choosing the right cloth nappy for your baby requires careful consideration of factors such as comfort, absorbency, ease of use, and durability. At Monarch Store, we understand that every family has unique needs, which is why we offer a range of cloth nappies designed to suit a variety of preferences and lifestyles.
If you're unsure about what's best for you, send us an email (support@monarchstore.com.au) and we'd love to help you find the right one for you!