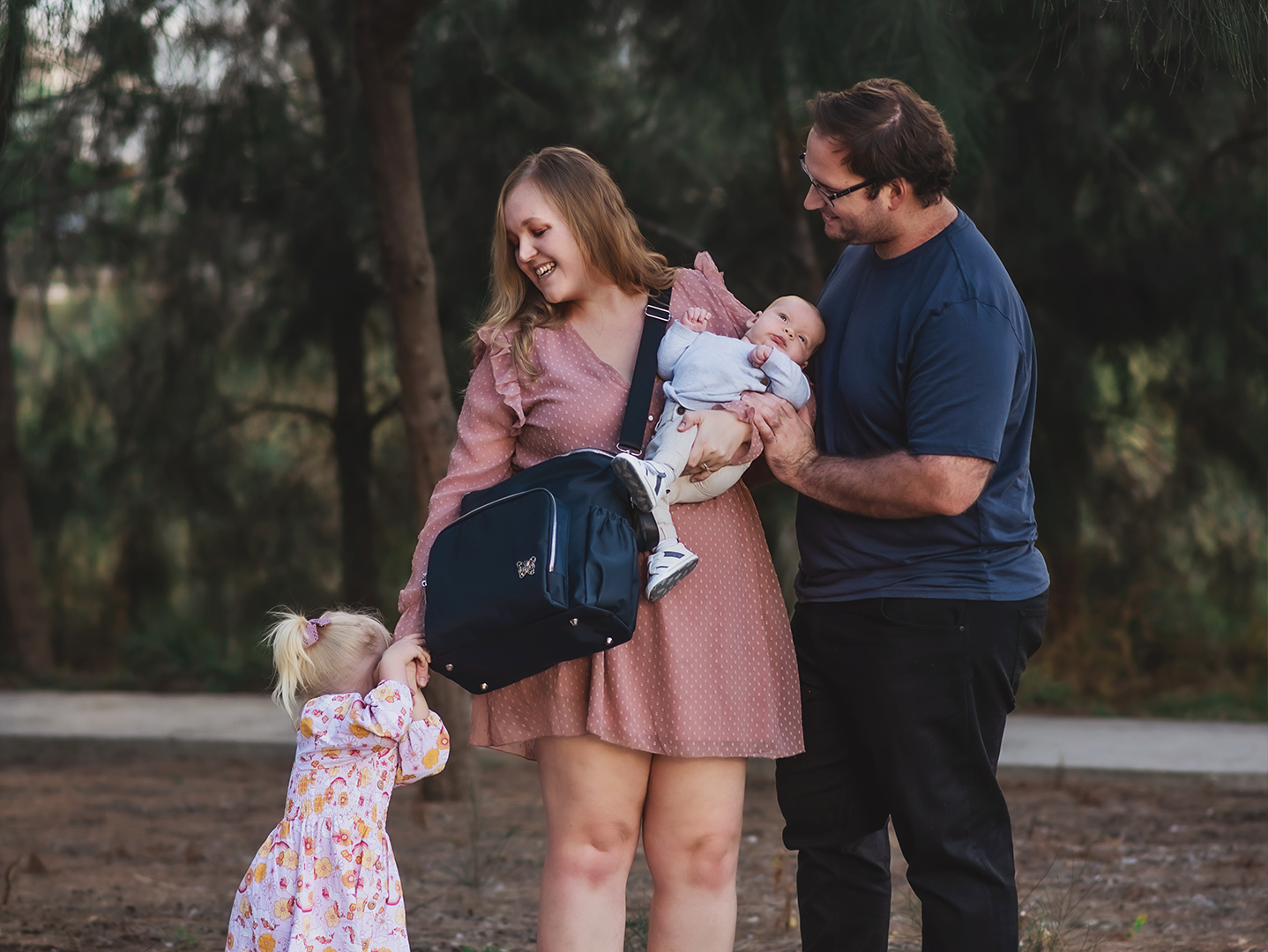 What To Pack In Your Nappy Bag: Don't Miss These Essentials!
Why should you have a nappy bag prepared? There's nothing like bringing home your new baby and spending the first weeks at home basking in the newborn bubble. Unfortunately, the real world comes knocking all too soon and you realise you are going to have to get out of those cosy PJ's and venture outside. It can be a pretty daunting thing, especially if you have a deadline to be somewhere.
One thing you can do to make life a little easier, is taking a fully stocked nappy bag with everything you could need. Even better if you can have it sitting all packed up and ready to sling across your shoulder as you make a mad-dash out the door. The Monarch 3-in-1 Convertible Nappy Backpack has removable bag compartments that simply snap in and out which means you can prepack a compartment for the beach, the park or for day-care, snap it in and off you go. 
Below are some of what I would consider essentials for a day out with babies!
Cloth Nappies
Obviously the most important thing in a nappy bag is cloth nappies. My ratio is one nappy for every 2 hours we will be out, plus 2 spares for accidents. I personally love packing Monarch's Classic Nappies for a day as they fit into our bag like a dream and they're super trim so you can get loads of them in there!
Change Mat
I find having a change mat for nappy changes gives me a little bit more peace of mind that my baby's bottom isn't touching anything grubby. Plus, Monarch's change mats are wipeable, super thick and soft, and double up as weatherproof pram blankets as well!
Wet Bags
Even for a non-cloth-nappy family, you'll find wet bags are the most important accessory. If you're using cloth, you can use them to store your dirty nappies to deal with at home. If you're not, you'll find they will help store wet and dirty clothes, shoes and everything in between. Good quality, dual layered wet bags contain smells and will stop any wetness from leaking through onto the other items in your bag. I always pack an extra wet bag because you never know what will come up.
Wipes
Making the switch to cloth wipes was one of the greatest things we ever did. It adds no extra work and using cloth wipes has saved us hundreds of dollars. When we go out, I usually take a stack of dry wipes and then use a tap in a change room or my Insulated Water Bottle to wet them as needed. But this is really a 'whatever suits you' arrangement as I know others prefer to wet them before leaving home and pop them into a Mini Wet Bag ready to use.
Breast Pads
For those breastfeeding, always keep a couple of spare pairs of Breast Pads in your nappy bag. They take up no room and tuck easily away into a pocket, just waiting to make themselves useful. I used to store each pair in its own Mini-Mini Wet Bag as well so I had a place to put the used ones.
Pods
If you, like me, like to keep things together and organised in a nappy bag then you cannot go past Pods to help you out. I pack all our clean nappies and clothing changes into a pod so that when you need to do a change, you can just grab the pod out of the bag and everything is ready to go. This is especially helpful for when you are at a restaurant for example and you don't want to have to take the entire nappy bag with you into those tiny toilets. Easy peasy.
Change of Clothing
This one is pretty obvious because kids are messy. A change of clothes for your child will solve that issue of people thinking your child is bleeding when they actually just went to town on a bottle of tomato sauce (definitely speaking from experience here).
But also, a change of shirt for yourself, especially if you have a baby who is prone to a little bit of a spit up after meals (also definitely speaking from experience). I got caught out several times and had to spend a few hours walking around in a black shirt with dried spit up all down my back. Lesson learned! Just throw a change of clothes for me in a Regular Wet Bag and you even have somewhere to store your dirty shirt.
Burp Cloth
Monarch's Large Minky Wipes make the PERFECT burp cloth. They're super soft and cosy, wipe up spills and messes like a dream and are such a great size. They also help to save clothing from spit ups. There is always one or two of these floating around in the nappy bag, and indeed at home, because they are just so useful.
Snacks and Water Bottles
As mums we are often so busy making sure our little ones have everything they might need, that we often forget about ourselves. While packing snacks for your child, don't forget to throw in an extra piece of fruit or a handful of crackers for you as well! Running around after kids all day is hungry work! And what I love about our Monarch 3-in-1 Convertible Nappy Backpack is that it has drink bottle holders on both sides of the bag so there is room for my Insulated Drink Bottle as well as my daughter's bottle, and both are always within easy reach.
Entertainment
Now that my daughter is getting a little older, I find I have to carry around some entertainment for her to keep her preoccupied during wait times. We use a Mini Wet Bag loaded with books, toy cars, colouring pencils and a comforter to use as a distraction before the whining becomes a tantrum. Before we leave, she helps to choose what to pack and it's an instant distraction when she sees me pull it out of the nappy bag.
Nappy Cream
There is always a travel sized tube of nappy cream tucked into a pocket in our bag. It's not often that nappy cream is needed but during teething times, it's always helpful to have it on hand to help soothe irritated skin.
Tip: Sometimes we use it as 'emotional cream' for tiny grazes on skinned knees and it has a 100% success rate for stopping tears.
Mini-Mini First Aid Kit
The Mini-Mini Wet Bag is the perfect size for a portable little first aid kit! We have a few band aids, lip gloss, hand sanitiser, hair ties, a spare dummy, some Panadol (for adults), a pair of tweezers and a thermometer in ours and it has come in handy so often.
Hat and Sunscreen
Always a necessity in Australia! I have a spare hat and tube of sunscreen constantly in our nappy bag so we are never caught out.
Adult Essentials
And of course, you always need your phone, wallet, keys!
The best thing? All the above will fit into your Monarch 3-in-1 Convertible Nappy Backpack AND it's super stylish and comfortable to wear too!