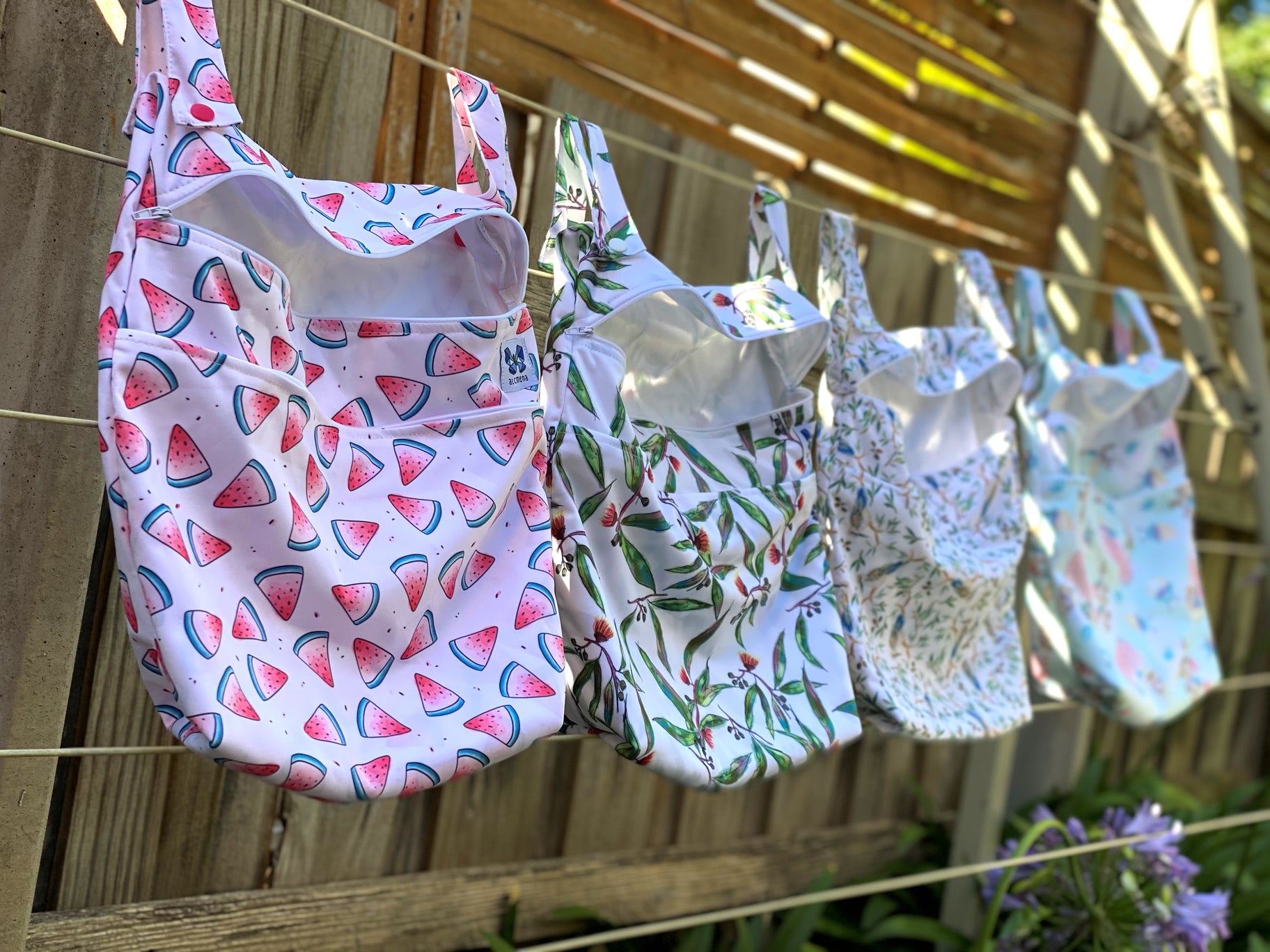 7 Must-Bring Items When Camping With Cloth
Introduction
So, you're finally getting the hang of the cloth nappy life. You've got your routine down to a fine art and you can stuff those bad boys practically blindfolded. Then your friend, spouse, family member suggests a weekend camping trip. Heck yes! Back to nature for a few nights, unwind, relax. But… you don't have disposables, and you've never camped with a baby in cloth before. Don't panic. We've got you covered, by the end of this you'll not only be ready to go but you'll be excited to take on your camping with cloth adventure!

Let's start out with some basics first. Obviously unless you're going to a pretty spectacular campsite, washing machines won't be too readily available. Never fear though, all you'll need is a few bits and pieces to get you through.
Here's Your 7 Must-Bring Items List:
1. A designated bucket big enough to fit those dirty nappies in
2. Gloves
3. Clean water: If you don't know where your water will come from, or how readily available it will be, it's a good idea to pop some fresh water into some big jerricans to take along with you. Whilst all the water is the same it's worthwhile labelling one as drinking water and one as washing up water, that way you know you'll have enough and won't need to dip into the other supply! Especially if you're travelling with other people.
4. Washing powder: You may not be using a washing machine, but you'll still be washing! Wetbags are a fantastic way to carry washing powder and a scoop without having to lug around a big box full of the stuff. Measure out how many scoops you'll need and don't forget to add your scoop in too! We suggest aiming for at least one scoop a day, adding an extra 2 to 3 scoops at the end, just as a back up.
5. Rope and pegs: For a makeshift wash line of course. 
6. Wet bags: 
Larger wet bags are a fantastic way to keep track of your dirty nappies, just make sure that you know which bag is filled with nappies needing to be washed and which ones have already been washed.
The Regular
or
Travel Pod
are perfect for this!
7. Stain remover spray ("optional", but always handy): It makes stain removal a lot easier though if it's not something you normally use then, don't worry!
The best part is, most of it will fit right inside the bucket you will use to clean the nappies. All you need to do is pack everything into that bucket and it's ready to go, all you need to do is lift it out of your car and everything is right there ready to use.
When it comes to the actual washing of the nappies, stick to your usual morning or evening routine. If you're at the poo scraping stage simply scrape as much off into the toilet (or into a hole depending on your level of camping) and keep it to the side to be washed last.
Camping in cloth doesn't have to be hard work! It can certainly be a bit messy, and a whole lot more hands on, but it definitely doesn't have to be make or break. Click the download below for your free downloadable packing list! Keep this one handy as it'll make packing (and packing up) that much easier.
Share with us how your camping in cloth went! Did you find it easy to manage? What top tips would you give to a first time cloth camper?