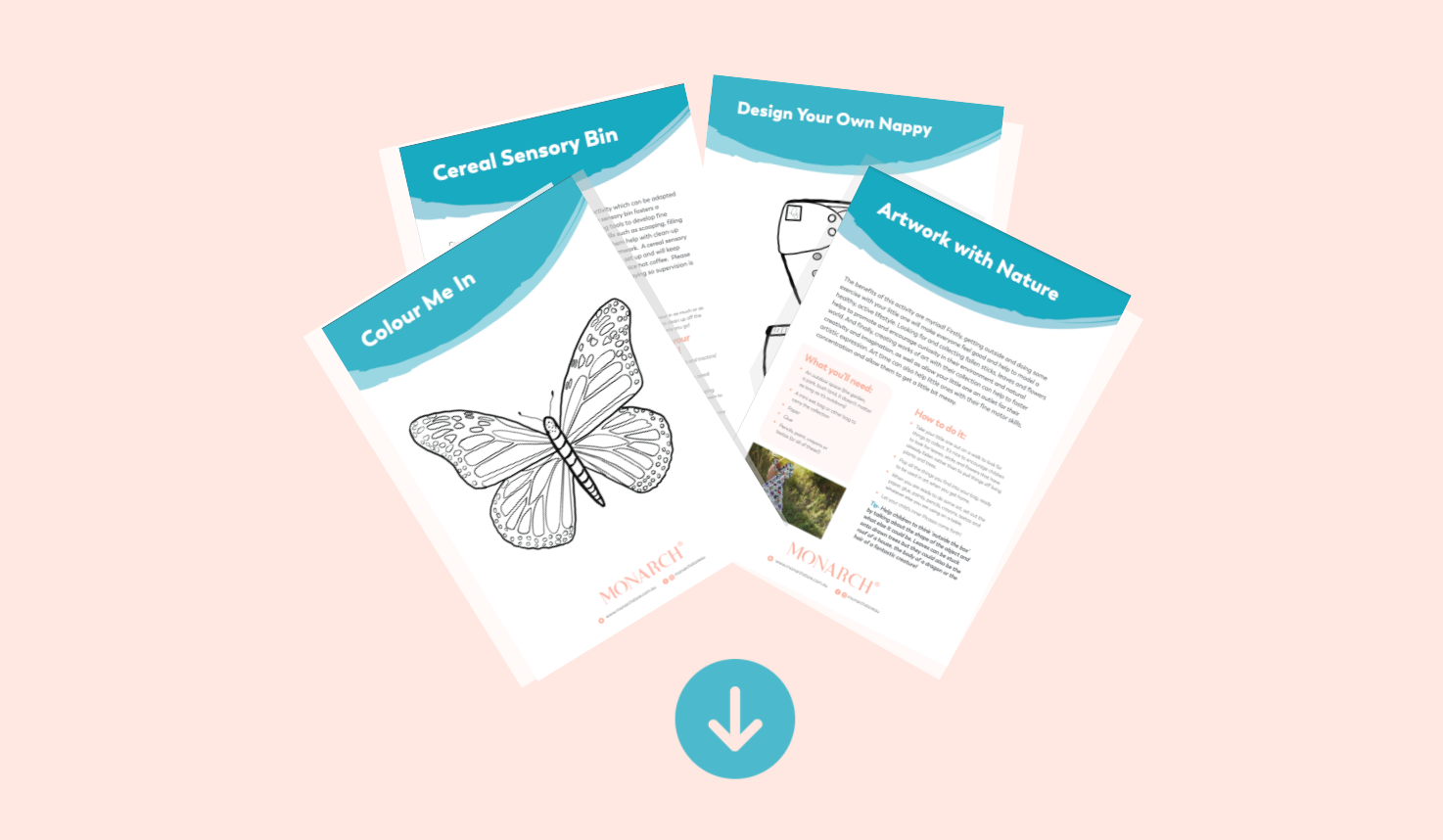 Printable Activity Sheets
Are you feeling lost in lockdown? Us too! 
We know how hard it can be to be stuck at home, especially with little ones! Finding ways to keep them occupied that arent a) super expensive, b) a tonne of effort or c) a tonne of clean-up is HARD! 
That's why, we've put together our Printable Activity Sheets for the Whole Family! 
Our Activity Sheets feature colouring in, contrast cards for little bubs and a variety of easy, at-home activities for you to really enjoy spending time with your babies! 
You can download ALL the sheets by clicking here!
OR choose your activity by selecting from the list below; 
Design Your Own Nappy - let your little one try their hand at becoming a Monarch Artist and design their own nappy! You can watch their imagination run wild by allowing them to choose colours and plan designs to make their nappy something they'd love to wear!
Butterfly Colouring In - your little one will love colouring in this beautiful hand-drawn Monarch Butterfly! With lots of spaces to try different colours and shades, it'll keep them occupied and stimulated long enough for you to take a breath and have a sip of coffee!
Alphabet Contrast Cards - high contrast images are easier for babies to interpret, they are the best way for your tot to lengthen their attention span, improve their memory and develop their nervous system! Our Alphabet Contrast Cards were designed and drawn with your little one's in mind, becoming a learning activity as they grow into toddlerhood!
Making Play Dough - play dough is a fantastic sensory activity, encouraging creativity and giving them a sense of calm! Our super easy playdough recipe will leave you wondering why you hadn't made it sooner! 
Artwork With Nature - get outside for some fresh air and explore all that nature has to offer, grab some goodies and make some magic at home! A simple activities for all ages that your little ones will love!
What's In The Wet Bag? - designed for sensory exploration focusing on touch and feel. By allowing children to explore the bag contents, it helps to develop their understanding of cause & effect and shape recognition. This is a great activity for some quiet time as it is no-mess and stress-free!
Feed The Box - this activity is great because it can be made as simple or as complex as you like for your little one's age and helps to build gross and fine motor skills in younger children and could help older children to develop shape and colour recognition. 
Cereal Sensory Bin  - a fantastic indoor/outdoor activity which can be adapted to suit your toddlers interests. The tactile nature of a sensory bin fosters a toddler's creativity, curiosity and critical thinking.
Treasure Hunt - a great activity for just after nap time or to fill some time in the morning! It can be as long or as short, as easy or as complex as you want it to be! This is a great way to spend some time with your child without having to worry about cleaning up mess or putting in too much effort.
Threading Activity - threading helps children develop fine motor skills that are essential for being able to draw, write, do up buttons, tie shoelaces, open lunch boxes and more. This activity is a great one for when you need a little bit of a break as it allows your child to explore independently (with supervision) and can be a great way to have some quiet time!
Musical Mats - get out those Wipe-Clean mats (or blankets) and have some fun! It's time to get some of that energy out and give the kids a good run around and blast some of your favourite family tunes!
Let us know if you try these activities with your kids! Share a photo or video of your family using our Printable Activity Sheets for the Whole Family to your social media with the hashtag #stayhomewithmonarch for your chance to be featured on our instagram @monarchstoreau !